Revision hip with impaction grafting to socket and "in-cement" revision of femur
A 59 year old gentleman had developed symptoms of pain and feelings of instability in his right hip replacement that had been functioning well for the previous 14 years. The X-ray shows loosening of the acetabulum (socket). The femoral stem appears well fixed. At revision surgery the acetabulum was removed easily and recntruction was undertaken with impaction grafting of a femoral head bone graft followed by cementation of a new socket. After trial reduction the hip was found to be unstable so the stem was removed and a new stem with different offset and length was cemented into the old cement mantle, a technique called "in-cemet revision".
Pre-operative X-rays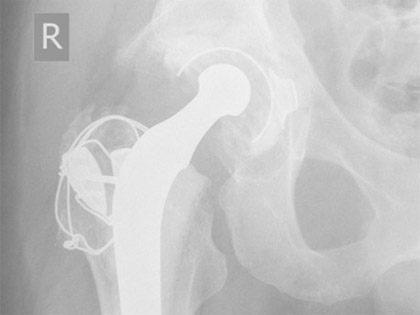 Post-operative X-ray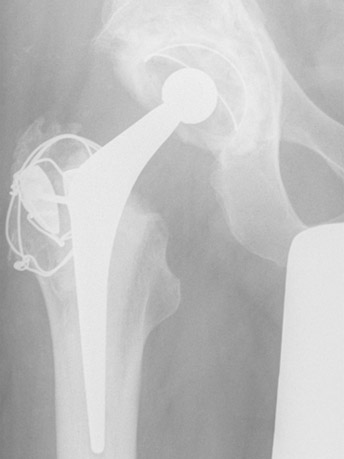 Related Articles
Hip revision
A joint replacement is a mechanical device and like any mechanical device there is always...


11/10/2012 16:15:44


Read more...


Hip Wear
Wear occurs as a result of the movement of the femoral head against the polyethylene and v...


17/06/2008 12:39:21


Read more...


Loosening
The implant is fixed to the bone either with bone cement or by biological fixation but the...


16/06/2008 17:02:02


Read more...


Fracture
Occasionally a fracture may occur around the prosthesis as a result of a severe trauma su...


16/06/2008 17:01:39


Read more...


Dislocation
Dislocation is a process where the ball joint comes out of the socket. It is more l...


16/06/2008 17:01:20


Read more...


Revision hip with structural bone grafting
This 51 year old lady had three previous revisions of her left total hip replacement. The ...


16/06/2008 16:40:26


Read more...