Tim Board
BSc(Hons), MB ChB(Hons), MRCS, MSc(Orth Eng), FRCS(Tr&Orth), MD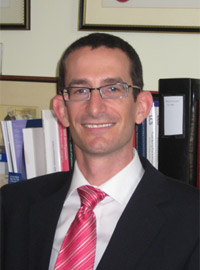 Tim Board is a Consultant Hip and Knee Surgeon working at the Centre for Hip Surgery at Wrightington Hospital in Lancashire. He is also a Visiting Professor in Orthopaedics at the University of Manchester.

He is fellowship trained in dealing with complex hip and knee problems including primary and revision arthroplasty. He is currently performing around 200 primary joint replacements and 50 revisions per year.
At Wrightington he has developed a special interest in treating young patients with arthritis and also treating patients who have problems after operations and dealing with revision surgery of the hip and knee. He also has an interest in dealing with hip impingement using the latest arthroscopic surgical techniques. He performs more than 50 hip arthroscopies per year

He gained his Medical degree from the University of Manchester in 1996 (awarded with Honours). He also gained a first class honours degree in Anatomy whilst an undergraduate. He obtained Membership of the Royal College of Surgeons of England in 1999. Speciality training in the North West led to completion of the Fellowship of the Royal College of Surgeon (Trauma and Orthopaedics) in 2005.
During his training Tim undertook periods of specialist training abroad, spending a year in Sydney, Australia and visting fellowships in Hanover, Germany and Zurich, Switzerland. He also spent some voluntary time in Malawi, providing orthopaedic care and education, a visit funded by World Orthopaedic Concern.
He has an interest in research and undertook an MD at the University of Manchester investigating bone grafting techniques in revision hip surgery. He has presented at many national and international meetings and has published more than 50 papers and contributed to many textbooks. His main fields of research interest include bone grafting and tissue engineering, hip impingement and arthroscopy, heterotopic ossification, computer aided surgery, outcome of uncemented stems in revision hip arthroplasty and failure of hip resurfacing (ALVAL).
Tim is a research advisor for the NHS Blood and Transplant Tissue Services, the largest bone bank in Europe where he is helping to develop the next generation of bone graft techniques including tissue engineering of bone graft.
He is Honorary Professor of Orthopaedics at Salford University. Leading the re-design of the Orthopaedic Biomenchanics Module of the MSc course in Orthopaedics.
Tim has also been appointed as Associate Editor for the journal Hip International, the official journal of the European Hip Society. The publication is the only journal worldwide to focus solely on hip surgery.
To reach Tim for any enquries or to arrange a consultation contact:
(NHS) - Tel: 01257 256477 (Andrea Birchall)
(Private) - Tel: 07713 451339 (Michelle Platt)