Revision hip for periprosthetic fracture
This 84 year old lady had sudden increase in hip pain on the left side after a sight fall. The hip replacement had been loose for some time and the bone had become thin around the implants. A fracture had occurred in the fall and the hip replacement has clearly subsided in the cement (note the distance between the femoral head and the socket). He hip was revised to a long unceented stem and the fracture reduced around the stem and held with cerclage wires. The socket was also revised.
Pre-operative X-ray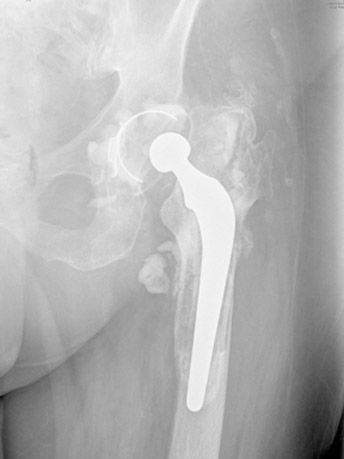 Post-operative X-ray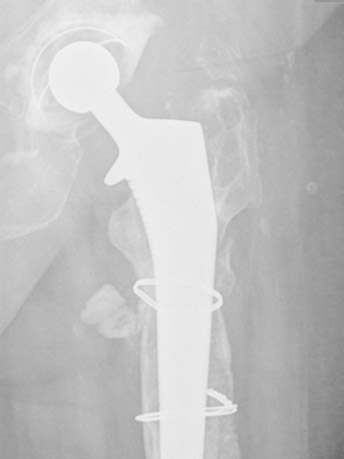 Related Articles
Hip revision
A joint replacement is a mechanical device and like any mechanical device there is always...


11/10/2012 16:15:44


Read more...


Hip Wear
Wear occurs as a result of the movement of the femoral head against the polyethylene and v...


17/06/2008 12:39:21


Read more...


Loosening
The implant is fixed to the bone either with bone cement or by biological fixation but the...


16/06/2008 17:02:02


Read more...


Fracture
Occasionally a fracture may occur around the prosthesis as a result of a severe trauma su...


16/06/2008 17:01:39


Read more...


Dislocation
Dislocation is a process where the ball joint comes out of the socket. It is more l...


16/06/2008 17:01:20


Read more...


Revision hip with structural bone grafting
This 51 year old lady had three previous revisions of her left total hip replacement. The ...


16/06/2008 16:40:26


Read more...