Meeting Update: Use of Hydroxypatite in Primary and Revision Surgery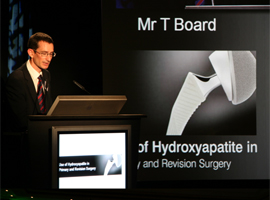 Lyon, 22nd-23rd May 2008
Tim Board was an invited faculty member on this educational meeting run by DePuy which was devoted to discussions about the use of the Corail, KAR and REEF femoral stems in hip arthroplasty.
76 delegates from 13 countries attended the course.
Points of interest:
Dr Joel Matta from Los Angeles presented the results of 1000 consecutive corail stems implanted from 2004-2008. All surgeries were done through the direct anterior approach to the hip using a specialized traction table. He reported no revisions of either the socket or the stem in this group.
Dr M Michel from Switzerland also presented results from using the corail stem inserted through a direct anterior approach and compared this to results achieved using the lateral approach. He found an early return to sedentary work in the anterior approach group but no significance difference in return to manual labor jobs and no significant difference in functional scores at one year postop.
Dr D Hardy from Brussels presented data on the osseointergration of corail stems. His group found that remodeling occurred over a 2-3 year period resulting in reliable fixation with visible trabeculae supporting the prosthesis in areas of high stress, particularly the corners of the implant. He also reported on the pattern of HA resorption. In areas of bone ongrowth HA is only partially resorbed then become static whereas in areas without on growth the HA can become completely removed over a 2-4 year period. He also presented data to show that the HA particles are removed by a cellular, osteoclastic response and that no HA was found in either joint fluid or joint capsule, dispelling the argument that HA particles may contribute to 3rd body wear.
Dr J-P Vidalain from Annecy and one of the founders of the ARTRO group (the designers of the Corail family of stems) presented the 17 year results of the Corail stem. From an original cohort of 615 patients, 243 were available for review at mean 17.7 years. 242 (39%) were deceased and 62 (10%) were lost to follow up. Of the remaining patients the survivorship of the stem for aseptic loosening was 98.9%.
Mr Tim Board from Wrightington presented data on the use of the KAR and REEF stems in revision hip arthroplasty. 69 KAR stems have been used for both aseptic loosening and peri-prosthetic fracture. Four intra-operative calcar cracks and 2 canal perforations were observered and one patient sustained a peri-prosthetic fracture after surgery with subsidence of the stem. No cases had been re-revised. The mean post-operative Oxford Hip score was 24. He presented a series of cases demonstrating how confidence in the stem had allowed the indications for use to be broadened. Data on the REEF stem was also presented. This distally locked, fully HA coated modular stem was used in 38 patients to treat massive bone loss, peri-prosthetic fractures and deep infection. Complications included one dislocation, one re-revision due to initial stem under sizing and one patient with thigh pain. Overall, he said that their early experience of these stems was encouraging.