Fracture
Occasionally a fracture may occur around the prosthesis as a result of a severe trauma such as a road traffic accident or a fall. The fracture may compromise the fixation of the hip replacement or else the fracture may be below the fixation of the implant. The ways of the treating it, if the hip is loose to treat the fracture and the loose hip all at one go. If the hip is not loose it is sometimes possible just to plate the fracture.
X-ray showing a fracture around a hemiarthroplasty.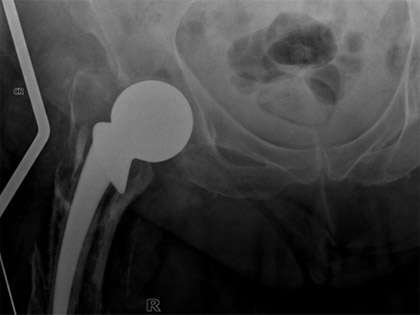 X-ray showing the fracture treated with removal of the implant and insertion of a longer uncemented implant with stabilisation of the fracture around the stem with cerlage wires.