Deep Infection of Hip
Deep Infection of Hip
This must be differentiated from superficial infection. As many as 7 per cent of patients may develop a relatively mild superficial infection which can resolve without any long term effects. About 1 per cent of patients unfortunately develop a deep infection which occurs deep inside the joint. The bacteria then adhere to the surface of the prosthesis. In most cases this cannot be treated with antibiotics and the prosthesis must be removed and the bone cleaned before a new prosthesis can be inserted. Some times this can be done during one operation. On other occasions, particularly when the substantial bone loss and when the nature of the affecting organism is not known, it is more common to carry out the operation in two stages. The first stage involves removing all infected material and the implant, and the sometimes inserting some antibiotic beads or shaped or moulded prosthesis containing cement and antibiotics. The second stage is the undertaken some 6 or 12 weeks later, removing the beads or temporary spacer and inserting a new prosthesis.
Image showing an uncemented, hydroxyapatite coated, modular revision hip stem(the REEF stem). In this explanted stem the HA has partially dissolved.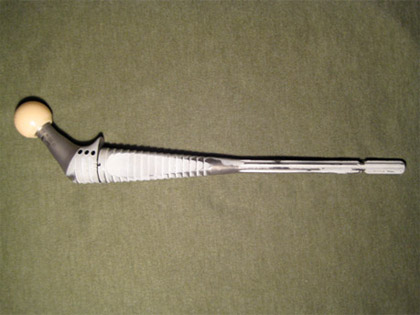 Image showing a proximally loading uncemented revision hip stem (SROM).